My Worst Moment: When a colleague tried to insist that I sleep with him to prove I wasn't gay. In public, in front of other colleagues and students.
I Have Given Up On: Not much, to be honest. Fuck 'em.
I'm Afraid: That my daughter might be confronted with the same shit I had to deal with.
This Has Cost Me: I got the hell out of that job/university placement into a different one, which paid better etc. Have been very careful and protective of my students (grad and undergrad) and don't let them get in situations like this if I can help it.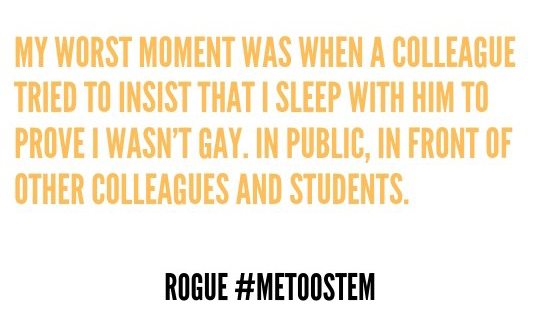 Something You Should Know About Me: Grew up in a very rural small town, hate conflict, tend to take things too personally.
Is There a Bright Side: I'm a full professor, president of my (big) professional society, considered a big deal. I'm at a R1 but low status university. Don't let where you land determine what you aspire to do.
My Fight Song: Tub thumping "When I fall down, I get up again…"

Secret Weapon: Dogged determination. I know from my background I'm disadvantaged. Wanted to nonetheless prove I could "play."