Take Action
Join thousands of scientists under the #MeTooSTEM hashtag calling on funding agencies, scientific societies and universities to stop honoring men who have been found guilty of sexual misconduct. Take these next steps:
 Take the 9 for IX pledge!
We have until 1/28/19 to submit comments and prevent Betsy DeVos and the Department of Education from making our Title IX system even worse from victims. The more unique comments that are submitted, the more impact we will have. They are required to respond to each unique comment. Comments MUST be unique – form responses will be discarded.
Oust Harassers from NAS
Please consider signing the Change.org petition petition to oust members of The National Academy of Sciences found guilty of sexual harassment, assault or retaliation.
From The Washington Post:
BethAnn McLaughlin, an assistant professor of neurology at Vanderbilt University, last month launched a petition urging the academies to revoke the membership of anyone found guilty of harassment, assault or retaliation. She voiced little faith that National Academy of Sciences President Marcia McNutt will act on the recommendations.

"For McNutt not to have cleaned house is offensive to me as a woman," McLaughlin said. "And it certainly undermines the credibility of the National Academy to implement meaningful change."
From ASBMB Today
To McLaughlin, the disconnect between the National Academies' sexual harassment report and the science academy's retention of members who have been found guilty of sexual assault, harassment and retaliation was unacceptable.

"It's such a bad look for our most prestigious academies to have these predators … still in places of honor," said McLaughlin, noting five other known serial harassers who have lost their jobs over their actions but still enjoy lifetime membership in the NAS. Her efforts intensified after reports alleged that NAS member Francisco Ayala, who resigned from the University of California−Irvine after a harassment finding, had discussed openly the ease with which a single NAS member can blackball nominees.
Prohibit Harassers from Receiving Funds
Sign the Change.org petition calling on Francis Collins to prohibit individuals guilty of sexual assault, harassment or retaliation from receiving government funds to train students and travel using government money. The petition also calls on barring individuals found guilty of working for study sections, counsels or other parts of the funding agency in which they can exert influence over distribution of funds to other investigators.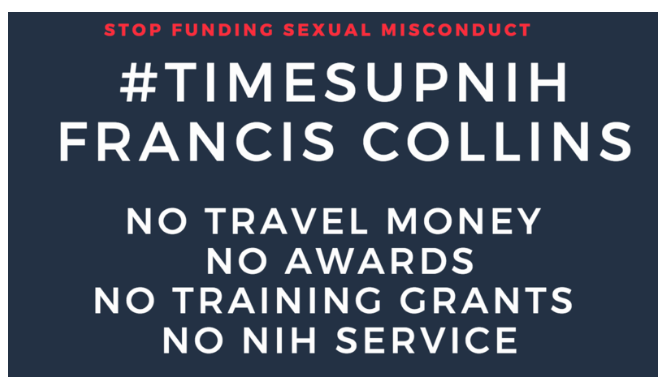 From Stat News
What's frustrating about the NIH's lackadaisical approach to gender violence is that this topic has been on Collins' agenda for at least two years. In 2016, he co-authored a letter to Nature indicating that the NIH was actively taking steps to address gender violence in science. Had he started working on this issue then, the NIH could have already proceeded with the lengthy rule-making process that he described recently.

Scientists have had enough. BethAnn McLaughlin, Julie Libarkin, and Tisha Bohr started an online petition asking the NIH to stake a stand on gender violence. We agree that it needs to do this.
GoFundMe Campaign

Support us! We are actively collecting money via GoFundMe to start a non profit with the goal of advocating and providing legal consultations for victims of sexual misconduct in STEM. If you are sexually assaulted on a college campus or at a professional meeting by a professor in medicine or science, you do not get access to the normal resources you see in the criminal justice system. You get no lawyer to prosecute your case, very few victims services and have to rely on physical and mental health resources provided by your university.
If the professor who hurt you is your teacher or advisor, universities not only won't let others know they are facing charges, but he can remain on campus – teaching, interacting with colleagues and, most importantly, retaliating. We know that 90% of women who report sexual assault and harassment are retaliated against.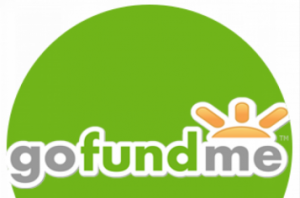 Getting a private lawyer who will independently serve as an advocate for victims allowing them to focus on healing and recovery will cost between $4,000-$10,000. To start. Victims are often investigated by universities, intimidated into silence by Title IX officers and redirected to 'employee assistance' programs that won't show up in federal reports of violence against women and minorities. This is utterly unacceptable.
We will streamline the advocacy process by informing victims of their rights, pressuring universities to place accused harassers on administrative leave during the initial 30-60 day investigation and putting victims safety first. We need money to make this happen. 
Database of Public Cases
From @geoedresearch
Database assembled by Julie of 700+ public cases of sexual harassment in academia as well as blogs on sexual harassment