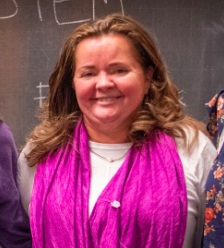 Dr. Bethann Mclaughlin
Dr. BethAnn McLaughlin built her academic career studying mitochondrial and redox stress signaling in neurological injury and disease. She has received major research funding from the NIH, the DoD, the Dan Marino Foundation, the AHA and IARPA. Her career was sidetracked in 2014 when she experienced retaliation after being a witness in a Title IX investigation. Recently, the National Academy of Sciences gold ribbon panel revealed that her experience was all too common for women in science and medicine. The majority of women in these fields are sexually harassed, very few report, and the consequence of reporting is almost always retaliation. The rates of assault and harassment of those we seek to include most including people of color, LGBTQI and individuals with disabilities are far higher and even more devastating.

Science journalist Meredith Wadman profiled McLaughlin in February of 2019 describing her "sobering, hilarious, passionate, and profane" style which sparked a "movement in science, wielding her irreverent, sometimes wickedly funny Twitter presence, (McLaughlin acts), as part cudgel, part cheerleader's megaphone".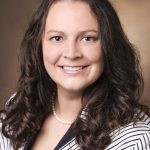 Dr. Amy Palubinsky
As a first generation college graduate (Susquehanna University) who went on to pursue graduate studies in Biotechnology and Neuroscience (Johns Hopkins School of Medicine and Vanderbilt University), my academic path has always been winding and slightly unconventional. Getting married and having three children in a male-dominated field before conferring a final degree was not an easy task. I've had interviews end before they even truly began and my baby bump referred to as a "career killer." Luckily for me, I have amazing and supportive family and friends and have somehow always managed to find myself training with remarkable mentors.

Patient and community outreach has always been the absolutely most rewarding part of all of my training. Acting as a mediator between bench and bedside has allowed me to hone my communication skills and disseminate scientific information in a way that people of all ages and skill levels can understand. As a volunteer for MeTooSTEM, I hope to continue to refine these skills while learning to navigate the muddy waters of sexual assault, harassment and retaliation in academia in a victim-centered and meaningful way.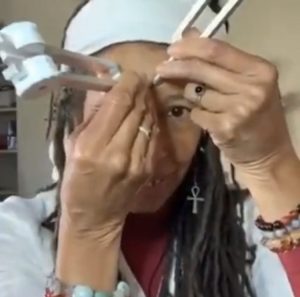 TCHIYA AMET EL MAAT
Tchiya Amet El Maat is a Light Being on Earth sharing wisdom knowledge, music and sound healing. Three decades ago, she was a grad student with a BA in Physics from Oberlin College and a fellowship at UT Austin in Astronomy, on a path to become the world's first Black Female Astronaut. That dream was stolen with one cowardly act by a former colleague and false friend, who is now a Science Celebrity. The pain and sadness caused by this incident set her in a new direction of music, family, spirituality, indigenous truth, cultural Astronomy, health and wellness, travel and enlightenment. When the trauma became unbearable, after 30 years, she turned towards healing her self. During this process of honesty and purification, some of her family members abandoned her, causing even more grief and trauma. She is currently rebuilding her life and will be realessing new music in 2020.
MeTooSTEM Speaking Team Members are trained counselors for sexual assault emergency services or medical doctors. Other members of the Leadership Team have primary roles in administration, advocacy, support and outreach.
*Affiliations listed for identification purposes only.