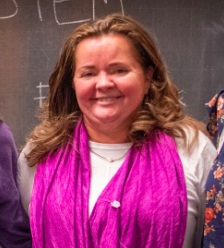 Dr. Bethann Mclaughlin
Dr. BethAnn McLaughlin built her academic career studying mitochondrial and redox stress signaling in neurological injury and disease. She has received major research funding from the NIH, the DoD, the Dan Marino Foundation, the AHA and IARPA. Her career was sidetracked in 2014 when she experienced retaliation after being a witness in a Title IX investigation. Recently, the National Academy of Sciences gold ribbon panel revealed that her experience was all too common for women in science and medicine. The majority of women in these fields are sexually harassed, very few report, and the consequence of reporting is almost always retaliation. The rates of assault and harassment of those we seek to include most including people of color, LGBTQI and individuals with disabilities are far higher and even more devastating.

Science journalist Meredith Wadman profiled McLaughlin in February of 2019 describing her "sobering, hilarious, passionate, and profane" style which sparked a "movement in science, wielding her irreverent, sometimes wickedly funny Twitter presence, (McLaughlin acts), as part cudgel, part cheerleader's megaphone".
Dr. Teresa Swanson
Dr. Teresa Swanson is a science activist and communicator who received her PhD in Pharmacology from the University of Washington in 2016. During her graduate career, she became passionate about speaking out on obstacles marginalized groups face in STEM spaces. Dr. Swanson is an openly bisexual and polyamorous scientist and discusses issues for women and the LGBTQIA+ community in STEM. After her PhD, she left research to be able to focus her attention on improving the research community for everyone. She created a position as an outreach and communications specialist for a neighboring graduate program to help increase the diversity of opportunities and support available for graduate students. In January 2017, she co-founded the March for Science Seattle, which hosted approximately 30,000 science enthusiasts during its first march, and she continues to lead the organization today. She also enjoys blending science and pop culture by hosting and serving on panels at regional comicon events. Dr. Swanson joined the MeTooSTEM leadership team in 2018 as a voice for victims after her own experience with harassment and defamation. In 2019, her contributions were acknowledged as a recipient of the MeTooSTEM Courage in Action award. She helps manage daily operations and services, serves as a speaking team member and is a trained sexual assault responder.
Dr. Angela Rasmussen
Dr. Angela Rasmussen is on the faculty of the Center for Infection and Immunity at the Columbia Mailman School of Public Health. She uses systems biology approaches to study how the host response to infection determines disease severity for highly pathogenic emerging viruses. Just as aberrant host gene expression can determine whether a patient will live or die from the Ebola virus, inadequate or inappropriate institutional responses enable abusers to destroy lives and careers. Dr. Rasmussen has directly and indirectly experienced the extraordinary harm caused by sexual misconduct multiple times throughout her academic career. She is a member of the NIH Advisory Committee to the Director Working Group on Changing the Culture to End Sexual Harassment and proudly joined MeTooSTEM in 2019. Dr. Rasmussen is focused on advocating for and implementing institutional culture and policy mechanisms to enforce meaningful accountability and provide restorative justice to survivors.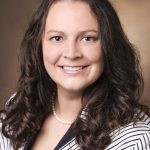 Dr. Amy Palubinsky
As a first generation college graduate (Susquehanna University) who went on to pursue graduate studies in Biotechnology and Neuroscience (Johns Hopkins School of Medicine and Vanderbilt University), my academic path has always been winding and slightly unconventional. Getting married and having three children in a male-dominated field before conferring a final degree was not an easy task. I've had interviews end before they even truly began and my baby bump referred to as a "career killer." Luckily for me, I have amazing and supportive family and friends and have somehow always managed to find myself training with remarkable mentors.

Patient and community outreach has always been the absolutely most rewarding part of all of my training. Acting as a mediator between bench and bedside has allowed me to hone my communication skills and disseminate scientific information in a way that people of all ages and skill levels can understand. As a volunteer for MeTooSTEM, I hope to continue to refine these skills while learning to navigate the muddy waters of sexual assault, harassment and retaliation in academia in a victim-centered and meaningful way.
Jaedyn Ruli
Jaedyn Ruli serves as the graphic designer and marketing intern. They received a BS degree in biology and environmental science from Binghamton University in 2019. During college, they studied how climatic factors impact wood frog bioaccoustics. They are aspiring to go to graduate school for conservation biology.
Dr. Carrie McAdams
Dr. Carrie McAdams is an Associate Professor of Psychiatry with Tenure at UT Southwestern Medical Center. Dr. McAdams received her BA, magna cum laude, with double majors in biochemistry and behavioral science from Rice University in 1992. She received a PhD in neuroscience from Baylor College of Medicine in 1998 and her MD with honors in 2000. She is a committed physician scientist, whose clinical expertise is in women's mental health and whose research expertise is in examination of the neural circuitry involved in social perceptions. She became involved with MeTooSTEM because she feels passionate that gender discrimination has resulted in massive inequities in health care for women. Most of her female peers have left science, and many of her patients have illnesses that have been barely been researched. Her research links the psychosocial environment to the neurobiology of an individuals' perceptions of the world. Her work with MeTooSTEM focuses on providing education about neurobiological factors and mental illness symptoms in relation to sexual misconduct.
Dr. Chris pickett
Chris Pickett is the director of Rescuing Biomedical Research, a group dedicated to creating policies to catalyze changes that improve the culture and conduct of biomedical research. RBR has led efforts around expanding the use of preprints in biomedical research, enhancing transparency in Ph.D. career outcomes, improving funding for junior faculty and understanding the career paths of academic faculty.

Prior to joining RBR, Chris was a policy analyst with the American Society for Biochemistry and Molecular Biology where he headed up the society's efforts on improving the sustainability of the research enterprise, including a published paper and a meeting on the topic.

Chris got his start in science policy in 2012 as a fellow with the ASBMB, where he worked on legislative and regulatory issues affecting a variety of areas including research funding, portfolio management and training. Before the ASBMB, Chris was a postdoctoral scholar for five years at Washington University in St. Louis, and he received his Ph.D. in Oncological Sciences from the University of Utah in 2006.
MeTooSTEM Speaking Team Members are trained counselors for sexual assault emergency services or medical doctors. Other members of the Leadership Team have primary roles in administration, advocacy, support and outreach.
*Affiliations listed for identification purposes only.