My Worst Moment: Within days of me moving to a lab on the opposite side of the globe from my home, a male colleague in the lab touched me very inappropriately. The postdocs and graduate students in the lab took his side, because get this - I was the one that came to this shiny first world country to score a white husband, and he was only trying to be friendly. When I complained to my PI (also white male), I was told to get along with the lab or else it would reflect in my letter of recommendation. I spent the first year of graduate school being ostracized by my lab mates, being yelled at by the perpetrator, and fearing for my life when I was alone in the lab with the perpetrator. I spent a couple years being depressed and it impacted my work negatively. This only made things worse with my PI, not only was I a 'troublemaker', but a 'failure' as far as science was concerned. After about 2 years I started documenting every interaction with the perpetrator and emailed the PI and him. The PI never responded to those emails, but the perpetrator stopped harassing me. Things got better for me because I felt like I was finally in control. It's been a few gruelling years but I will be graduating soon (as will the perpetrator). The sad part is that this is not the only perpetrator I have had to deal with in grad school, but he is by far my worst experience.
I Have Given Up On: Seeking help from anyone at the university. Nobody cares, except my therapist and my close friends.
I'm Afraid: Of backlash. Of being told again that I am a 'troublemaker'. I didn't ask for this, I just came here to do good science.
This Has Cost Me: My mental health.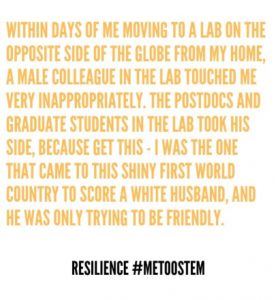 Something You Should Know About Me: I will pull through no matter what.
Is There a Bright Side: I came out stronger, and found better friends. Friends that will stand by me through thick and thin, and keep me company when known perpetrators are around.
My Fight Song: Stronger - Kelly Clarkson
Secret Weapon: My friends. They always have my back.